Pizza Hut Offer- Free portion of Ultimate Garlic Bread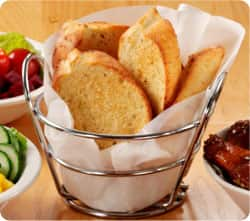 Top up your main meal with a free portion of Ultimate Garlic Bread. That's 4 slices coated with garlic butter on both sides for a richer flavour. Go on then..what are you waiting for? Download your voucher now.

Pizza Hut UK has 330 restaurants in the UK. We offer a wide selection of Pizzas, pasta and so much more - including our well reknowned cookie dough desert ... great to share, better alone!
We are a business passionate about food, but don't just take our word for it - we were Best Pizza Chain for the second year running at the Pizza, Pasta and Italian Food (PAPA) awards in 2011 as well as Best Family Restaurant at the Tommy Awards in 2012 (again, for the second year running).
We opened our first restaurant in the UK in 1973 and since then have been famous for pizza innovation: launching pizzas like Deep Pan, Stuffed Crust, Cheesy Bites, 500 calorie Pizzetta, and of course the Cookie Dough desert.
If that wasn't enough we also give every customer who buys a main meal FREE UNLIMITED SALAD - just help yourself.
Why not come for yourself : book a table