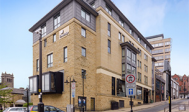 Travelodge Harrogate Hotel
The Ginnel
Off Parliament Street
Harrogate
HG1 2RB

Tel: 0871 984 6238 *
Fax: 01423 562734
*Calls cost 10 pence per minute from a standard BT landline.
Calls from other networks and mobiles may vary.
Transport links near Harrogate Hotel
Important information
Guests should be aware that this hotel is located in close proximity to local pubs, bars and nightclubs, as you might expect, some external noise may be heard.
The building next to the Hotel is currently undergoing building work during Monday to Saturday from 7:30am to 6:00pm and will continue up until June 2014.
Places to visit in and around Harrogate