Enjoy great value food & drink in our Bar Cafes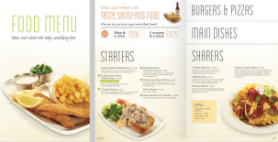 Hungry? There's a table waiting for you in one of our Bar Cafes. Relax and unwind with over 140 hotels offering tasty and affordable food and drink.
Whether you're filling up for a fun packed day, or relaxing after an adventure, we've something for every appetite. Choose from all your favourites; classic fish and chips, pie and mash, juicy burgers and Chicago Town pizza, as well as some exciting dishes like hot dogs, steak sandwiches and a gooey fudge sundae (if you've space!).
Meal deals
Grown-ups can choose from two tasty meal deals:
Main course and drink - £9.95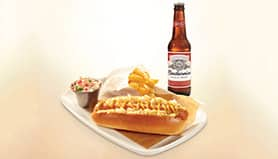 Choose from any selected main course with a bottled lager or 175ml glass of wine* for just          £9.95!
Two courses and drink - £12.75
Choose two courses from our specially selected range, and enjoy with a bottled lager, 175ml glass of wine or regular soft drink* for just £12.75!
To book just add to your online room booking.  Other meal deals are available at the hotel; just ask a member of our team for more details.
Place your order at our bar and decide where to sit or have in the comfort of your room.Served daily between 5pm and 10pm. Menu prices may vary from hotel to hotel.
View and download our menu here 
Something for the kids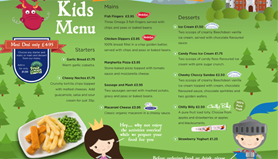 Fill little tummies with two tasty courses for only £4.95 from our special Travelodge Kids menu. There's a fun activity sheet on the reverse to keep little ones entertained while mum and dad tuck in.
View and download our kids menu here 
Plus there is also a chance of winning a family ticket to Drayton Manor Theme Park with a Travelodge stay! Simply fill out your details and answer the question on the reverse of the menu for your chance to win. The closing date has been extended and it's now the 12th May 2015. All entries should be posted to: Kids Menu Promotion, Travelodge Hotels Ltd, Sleepy Hollow, Aylesbury Road, Thame, Oxfordshire, OX9 3AT.
Other meal deals are available at the hotel, so just ask one of our happy-to-help members of staff for more details.
Wake up to our all your can eat breakfast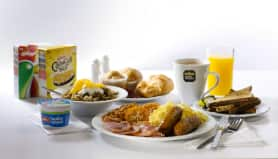 Fill up and choose as much as you like from our breakfast buffet for only £6.65 per adult when booked online, saving £1 and kids can eat FREE!** 
24 hour snacks
We have a range of snacks available 24 hours a day, in all of our hotels, either from reception or full-stocked vending machines.
---
*Package subject to availability at selected hotels when booking a room online. Deal includes one glass of 175ml wine - red, white or rose, or one bottle of lager (Beck's, Budweiser or Stella)  or a regular Pepsi, Diet Pepsi or lemonade. Excludes extras and sauces.
**Up to 2 children under 16 (aged 15 years and under) eat breakfast free per paying adult. Does not include breakfast box. 
£6.65 offer excludes Spain, Northern Ireland and Republic of Ireland and London Central Waterloo, London Kings Cross Royal Scot, London Central Southwark, London Farringdon, London Central Euston, Manchester Piccadilly, Brighton Seafront, London Docklands, Newcastle Central, London Bethnal Green, Liverpool Central The Strand, Blackpool South Shore, London Heathrow Central, Birmingham Central Bull Ring, Leeds Central Vicar Lane, Leeds Central, London Wembley, London Covent Garden, London Central City Road, London Central Tower Bridge, Manchester Central, Edinburgh Central, York Central Micklegate, London Liverpool Street, Brighton, Liverpool Central Exchange Street, Bristol Central Mitchell Lane, Bristol Central, Glasgow Central.