When you travel on business, we know how important it is to wake up refreshed and ready to go.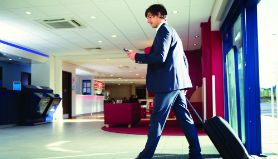 So we've upgraded our rooms in over 500 locations with comfy new king size beds to help you get a great night's sleep and all at great value.
Apply for a free business account today and start saving
If you, or your colleagues, stay at Travelodge hotels over 50 nights a year, or at least four times a month, our business account makes business travel easy.
5% discount on all flexible rate bookings
Priority room allocation on quiet business floors(subject to availability)
Dedicated account manager if you need help
Stay in control of your company expenses
          Enquire about our business account