Looking for cheap hotels in Dublin? The Irish capital has grown into a cultural powerhouse in the last few decades, culminating in its status as one of Europe's top attractions. The city's heritage is both engaging and fascinating, and the array of restaurants, bars and shopping highlights make it a truly versatile capital worthy of any visitor. Staying in one of our convenient hotels puts all of this at your (albeit temporary) doorstep.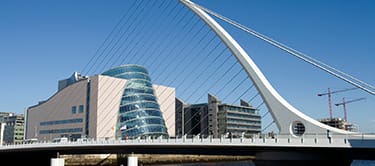 Select a hotel
Book Hotels in Dublin
Our hotels come packed with everything you'd expect: 24 hour opening times to make your transitions run as smoothly as possible, and Wi-Fi access allowing you to plan the day's activities without making another stop first.
We have a number of hotels in Dublin for you to choose from. If you're flying in, you may want to take advantage of our two ideally situated airport hotels: Dublin Airport North 'Swords' and Dublin Airport South. Perfect if your plane lands late or you want a quick check-in. What's more, they're both located just 2 miles from the heart of Dublin, meaning you're not compromising on location at all.
With our range of hotels, you're sure to find something that fits your needs, whoever you are!
Things to do in Dublin
Our central hotels are perfect for city breaks and long holidays alike. As with the airport service, you'll enjoy WiFi and a 24-hour service - both stag do parties arriving late and families looking for some shut-eye after a long day out can find what they need. Comfortable, clean and accessible, you'll be within minutes of some of Dublin's famous restaurants bars and, of course, shopping districts. In fact, The Dublin Phoenix Park Hotel is just 1.5 miles away from the Blanchardstown Shopping Centre.
Those looking for a history fix might want to turn to the Centre Rathmines Hotel given its proximity to both Dublin Castle and Christ Church Cathedral, while the Dublin Stephens Green Hotel is a great option if you're looking at a visit to The Guinness Visitor Centre.