Save up to 70% on popular West End shows!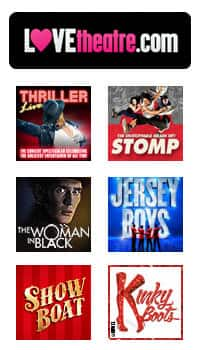 Enjoy special West End ticketing offers brought to you exclusively by LOVEtheatre. If you're after cheap and cheerful prices on top-notch seats, look no further than here.
 LOVEtheatre is an official agent for booking London theatre tickets, featuring exclusive ticket allocations for each major venue and for the most popular London shows, events and attractions.

- Select the event offer and click on "View special offer"
- Then click on "Apply special offer" to access these discounted tickets 
About LOVEtheatre
LOVEtheatre.com is your official and trusted source for West End tickets, Off West End tickets and other London theatre tickets at great prices. LOVE theatre has theatre news, reviews and discount tickets for your favourite London theatre shows.
Founded in 1991, LOVEtheatre is proudly owned and operated by The Ticket Machine Group Ltd, a multi award winning, London based agency which has grown to be the most respected independent theatre ticketing agency in the UK.
LOVEtheatre is a full board member of STAR (The Society of Ticket Agents and Retailers).