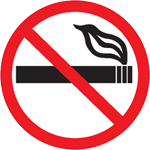 Travelodge was the first major hotel chain to declare that we would be completely smoke free after January 2008. All public areas in our hotels have been smoke free since July 2007 and since January 2008 we have prevented smoking in all our rooms as well.
We have made this move following overwhelming feedback on the subject from both customers and staff. By asking you, our customers, and our staff we have revealed that 92% of non-smoking customers and even 59% of smoking customers are in favour of banning smoking in public places.
From July 2007 all new hotels will open 100% smoke free and we are rapidly changing our existing hotels to reflect this change over the next few months. To find out if a hotel in 100% Smoke Free please look for this symbol (smoke free logo) on the hotel information pages on our website.