Looking for a cheap hotel in Edinburgh? As Scotland's capital city, Edinburgh does not disappoint! Attracting 1 million overseas visitors a year, this fantastic historical and modern city is the second most visited tourist destination in the United Kingdom. With it's many exhibitions, attractions and festivals to visit, discover and enjoy, whichever one of our Edinburgh hotels you choose to stay at, there'll be something for everyone.
If you're looking for a hotel in this beautiful city, whether you're going for a romantic weekend, taking the kids away or simply need to be there on business, Travelodge has great cheap hotels in Edinburgh located conveniently next to all the major places you need to be.
Currently we have a wealth of hotels in Edinburgh, with locations ranging from the outskirts (Edinburgh airport) to slap bang in the middle and right near the main Railway stations. No matter which of our Edinburgh Hotels you choose we can guarantee an excellent rate and most importantly, a great night's sleep - leaving you refreshed and ready to make the most of Scotland's capital.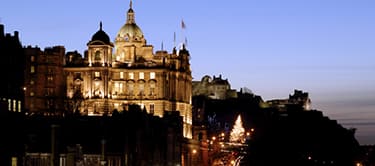 Select a hotel
Book Hotels in Edinburgh
Travelodge currently have a number of conveniently positioned hotels in Edinburgh City Centre. But whichever one of our Edinburgh Hotels you choose, we can guarantee you an excellent rate and a great night's sleep - leaving you refreshed and ready to make the most of everything the capital has to offer.
So whether you're on business, enjoying a leisure break, or simply passing through on your way to your final destination, search here for the Edinburgh Travelodge that's where you need to be, at a price you can afford.
Things to do in Edinburgh
Consider yourself a culture vulture? Travelodge offer excellent cheap hotels in Edinburgh that will put you in the perfect place to make the most of your visit. Edinburgh is renowned for its culture and fantastic sightseeing, most notably Edinburgh Castle. Or if you're after a spot of music, the Edinburgh Playhouse is a former cinema that now hosts touring musicals and music concerts, why not stay in the Edinburgh Central Travelodge right around the corner.
The city is well known for the annual Edinburgh Festival and we have plenty of hotels in Edinburgh to experience it. It's a collection of festivals held annually over about four weeks from early August. The most famous of these events is the Edinburgh Fringe, which is the largest performing arts festival in the world.
Love a good art gallery? Choose the Edinburgh Haymarket hotel and be right outside the National Gallery of Modern Art and the National Gallery of Scotland, you'll also have the Haymarket train station on your doorstep.