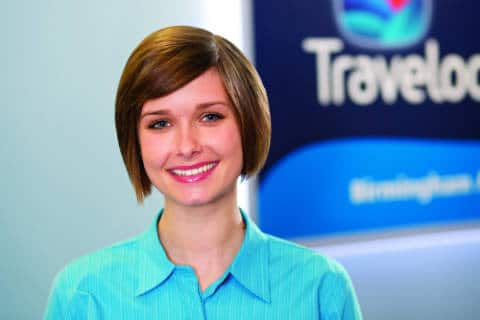 NEW for 2012 – Travelodge Management Apprenticeship Programme
As one of the fastest growing and most recognised budget brand hotels, we are committed to offering you a real alternative to Uni and Debt with our Management Apprenticeship Programme.
During the 2 year programme, whilst being paid you will learn about every aspect of our business as well as continuing your education and learning. Ultimately giving you the opportunity to become a Hotel Manager within 3 years of joining us!
What's in it for you?
As a Travelodge Apprentice you will work a minimum of 30 hours per week across all departments during the 2 year programme. You will be paid an initial apprenticeship wage of £4.22 per hour, rising to £4.98 per hour(under 21's National Minimum Wage) after successful completion of 3 months probation.
During your first 9 months you will get to know your Travelodge hotel in detail, experiencing each of our hotel team member roles (reception, bar café and housekeeping) for yourself as well as completing a level 2 Apprenticeship in Multi-Skilled Hospitality.
For the remainder of the programme you will gain further in depth practical experience of what working in a Travelodge hotel means, learning supervisory skills and completing both our First Steps to Management and a Level 3 Diploma (Advanced Apprenticeship) in Hospitality Supervision and Leadership.
There will be plenty of training workshops and support along the way to ensure you are successful on your journey to gaining a place on our Management Development Programme and becoming a future Travelodge Hotel Manager.
How do I apply?
To apply for the Management Apprenticeship Programme you must meet the following essential criteria:-
- You'll be 18 - 24 years old (must be 18 before 31st August 2012), with EU residency for a minimum 3 years and the ability to reside in UK.
- You'll possess 5 GCSE passes (Grade C) including Maths & English, plus 2 A levels (Grade C) or equivalent UCAS points.
- You'll not have obtained a previous degree
- You'll not have obtained a vocational qualification above Level 2 diploma or certificate.
- You'll be self sufficient enough in terms of travel or have good access to local transport to travel to and from at least one of the Travelodge hotels indicated below ( or your preferred Travelodge location):-
If you think that you meet the essential criteria above and are interested in joining us, click on the link below to submit your application.
Locations available for an April 2012 start:
London City Road
London Liverpool St
London Docklands
London Covent Garden
London Waterloo
London Euston
London Southwark
London Kings Cross
London Greenwich
London Stratford
London Excel Centre
London Woolwich
Ealing
Sunbury
Heathrow Central
Gatwick Central
Gatwick
Stevenage
Cricklewood
Cheshunt
Uxbridge
Whetstone
Croydon central
Chelmsford
Great Yarmouth
Cambridge central
Ipswich Central
Cambridge Orchard Park
Newcastle Silverlink
Glasgow Braehead
Glasgow Airport
Glasgow Central
Edinburgh Queen Street
Teddington
Camberley Central
Enfield
Birmingham Moor Street
Birmingham Airport
Salford Quays
Lytham St Annes
Manchester Arena
Bolton
Altrincham
Loughborough
Liverpool strand
Applications will be received upto 23rd January 2012 before closing. All successful candidates will be in place to start induction on 29th March 2012.
If you haven't finished school or college by these dates - don't worry we will be advertising further vacancies in April 2012 for a September 2012 start
To apply click here:
https://careers.travelodge.co.uk/travelodge/login.asp?vacancyid=1