This quaint coastal town is located in Norfolk and boasts a wealth of attractions and must-try activities. When you stay at one of our hotels in Great Yarmouth, you'll have access to all this area has to offer, including its many theme parks, museums, model villages, idyllic gardens and beaches. With an array of fun-filled attractions to choose from, Great Yarmouth makes for a great weekend escape, regardless of whether you're travelling with friends, family or loved ones.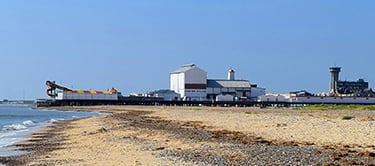 Select a hotel
Cheap hotels in Great Yarmouth
Book one of our Great Yarmouth hotels and you can explore the likes of Great Yarmouth Pleasure Beach, a great option for the entire family and an attraction that promises hours of fun. If you're travelling with children, a trip to the SEA LIFE centre is a must, located just 13 minutes from our Great Yarmouth hotel, it's here you'll be able to meet a variety of unusual creatures native to the ocean. Yarmouth Hippodrome is also close by, situated five miles from our Travelodge Great Yarmouth Gorleston-on-Sea hotel. This unique 'circus-ring' style venue hosts an abundance of music concerts, shows and dramatic productions, including the world-famous water spectacle. 
Things to do in Great Yarmouth
As you can see, there are many things to do in Great Yarmouth, including activities suited to the entire family. Whilst in this town, a trip to Merrivale Model Village is not to be missed - one of Great Yarmouth's favourite tourist attractions. Set in an acre of flower-embellished gardens, it's also one of the most idyllic spots in the area. For those wishing to embark on a cultural escape, a trip to Nelson Museum is a must, it's the only museum solely committed to telling the story of our national hero, Lord Horatio Nelson.