Looking for cheap hotels in Limerick? The city built upon the curves of the River Shannon is blessed with two of our brilliant hotels. Considering Limerick's proximity to open water, you may be visiting to sample some of the famous local cuisine, or maybe you're looking to soak up some of Ireland's rich heritage.
Perhaps you're an arts enthusiast and you want to visit the Ireland's official City of Culture for 2014. Whatever your interests, you're bound to find something to love and our hotels are the gateway to a part of the world that you'll grow to love.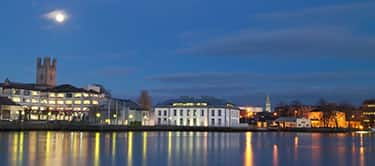 Select a hotel
1 to 2 of 2 Hotels
1.9
miles away from
Limerick
1.9
miles away from
Limerick
Cheap hotels in Limerick
Beautifully situated between all of Limerick's top attractions, both of our hotels cater for any kind of visitor, whether business travellers or pleasure seekers, weekend visitors or those wanting a lengthier break.
If you're driving, you'll be happy to find on-site parking at both our hotels, making your stay as convenient as possible, and with Wi-Fi access across every single room and 24-hour opening, you can really feel at home.
Things to do in Limerick
The famous Hunt Museum and King John's Castle are just 5-6 miles away from our Limerick Ennis Road hotel; one of many options for your Limerick adventure. At the Hunt, you can enjoy tours around the museum, arts and crafts classes, lectures, and you can even keep the kids happy with a range of activities tailored just for them.
Our Limerick Castletroy hotel is only 0.5 miles away from the University of Limerick and will give you the perfect opportnity to explore the town as well as the University. Established in 1922 (a day before Dublin University), its presence has transformed Limerick into a vibrant, multicultural city. National Technology Park Limerick, University Sports Arena and University Concert Hall are all within walking distance from the hotel, too, making it the ideal choice for lovers of culture.