Looking for cheap hotels in Dublin? The Irish capital has grown into a cultural powerhouse in the last few decades, culminating in its status as one of Europe's top attractions.
The City's heritage is both engaging and fascinating, and its array of restaurants, bars and shopping districts make it a truly versatile capital, worthy of any visitor, so when you stay at one of our centrally located hotels you'll enjoy all of Dublin's fantastic atmosphere - right on your doorstep.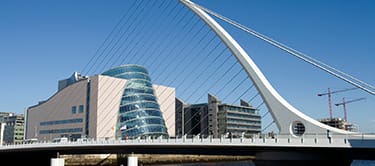 Select a hotel
Cheap Hotels in Dublin
Our hotels come packed with everything you'd expect: 24 hour opening times so that you can organise your timetable when it suits you, and Wi-Fi access which allows you to plan the day's activities from the comfort of your own room.
We have a number of hotels in Dublin for you to choose from so, if you're flying in, you may want to take advantage of one of our ideally located airport hotels. Dublin Airport North 'Swords' hotel and Dublin Airport South hotel are perfect if your plane lands late or you want to avoid the traffic before checking in. What's more, both hotels are just 2 miles from the heart of Dublin, so you can still be in the centre of Dublin in no time at all. With our range of hotels, you're sure to find something that fits your needs.
Things to do in Dublin
Our centrally located hotels are perfect for both city breaks and long holidays. As with the airport service, you'll enjoy a 24-hour service and have access to WiFi and so whether you're coming in late from a stag do, or you and your family are looking for a comfortable and relaxing place to rest for the night after an exciting day out, you'll find comfortable, fresh rooms at your disposal, all with our comfy new king size beds, complete with four plump pillows and comfy duvet.
At our hotels you'll be within minutes of some of Dublin's most famous restaurants bars and shopping districts. In fact, the Dublin Phoenix Park hotel is just 1.5 miles away from the Blanchardstown Shopping Centre. Those looking for a history fix might want to turn to the Centre Rathmines hotel which is close to both Dublin Castle and Christ Church Cathedral, while the Dublin City Centre, Stephens Green hotel is a great option if you're looking to make your way to the Guinness Visitor Centre.