The UK's largest independent hotel brand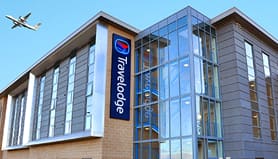 In 1985, Travelodge became Britain's first value hotel brand when it launched in the UK, opening its first hotel at Barton under Needwood in the heart of England. Since those early days, Travelodge has gone from strength to strength. It is now the UK's largest independent hotel brand, with more than 500 hotels and 37,000 guest bedrooms, right across the UK as well as in Ireland and Spain.
You'll find our hotels in the centre of major cities, including London, Edinburgh, Cardiff, Manchester, Birmingham, Belfast, Dublin, Barcelona, and Madrid; in most of Britain's larger towns,
as well as in the classic seaside locations and vital roadside stops. 
More than 150 of our hotels have our on-site Bar Café restaurant, and almost all are located close to other restaurants and coffee shops, making Travelodge the ideal base for travel. We continue to expand, with 14 new hotels expected to open in 2015 and more than 250 further locations identified for expansion.
Our strategy - unbeatable value in hotels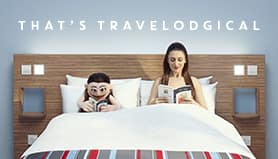 Travelodge aims to become the favourite hotel for value. We seek to offer unbeatable value in leisure and business travel. With attractive modern bedrooms, comfy new king size beds and great value wherever you need to be: we're the Travelodgical choice.
Our recent £100m modernisation programme has seen us upgrade more than 30,000 rooms across our estate with a new more contemporary look and feel, install 38,000 brand new king size Travelodge Dreamer beds and separate pull-out beds for children in our family rooms.

With more than 80% of Travelodge hotels now located in major city centres, towns and popular holiday destinations, there's a Travelodge where you want to be.  
Best for Business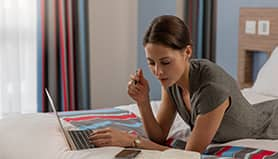 Travelodge is the ideal choice for business. Whether you are a large business looking to control your costs, or a small start-up making the most of your cashflow, we have a great range of hotels to suit your travel needs and budget.  
With many FTSE-100 companies among our corporate customers and thousands of small business Business Account Card holders, Travelodge has an offer to suit the modern business traveller.    
The upgraded Travelodge room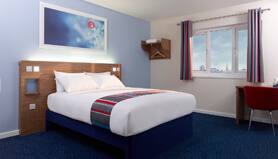 Our brand new room design has been created based on feedback from our customers about what  they value most in a hotel.
The Travelodge Dreamer® Bed - an upgraded new luxury king size bed, produced by royal warrant holders Sleepeezee Ltd,
featuring a mattress with 952 individual pocket springs, each designed to follow the natural contour of an individual's body in order to provide the correct amount of support and comfort to ensure they receive a good quality night's sleep. All topped with a quilted mattress topper with comfy, bounce back duvet
and four plump pillows. For families travelling with children, and for those adults sharing for a quick overnight trip, we have introduced separate pull-out family beds to accommodate two extra people in our family rooms.
Find out more about our new, comfy king size beds.
Soothing Design - to help create a warm and cosy ambiance in the new room, Travelodge worked with a chromotherapy expert and has introduced a sleep inducing colour palette to the room's decor. The new Travelodge room feature wall has been painted a tranquil blue, as research shows our body clock is programmed to relate the colour blue to the hours of darkness. So when we look at the colour blue, our metabolism slows down, making us feel relaxed and sleepy. The colour also has the effect of making the room feel more light and airy. The remaining walls have been painted a calming cream colour as this shade embodies the quality of gentle morning sunlight that helps you to wake up feeling refreshed and alert. 
Other additions to the new room include a stylish white contemporary en-suite bathroom with shower, a larger desk area, new reading lights and a phone charging socket built into the bed frame.

Find out more about our upgraded rooms.
People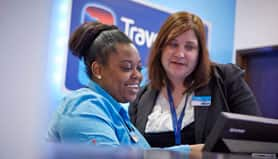 Almost 10,000 colleagues work across Travelodge to look after our customers.
We offer a wide range of roles, from front-line guest service positions to sophisticated digital, operations research and finance roles in our support centre. With a mix of full-time and part time roles, we are an ideal employment choice for people who are looking to build their careers in hospitality, as well as those fitting in their employment around other commitments
and responsibilities.
Development has always been an important part of what we do. In 2011, we launched the UK's first value hotel management apprenticeship programme for school leavers. The scheme, JuMP (Junior Management Programme), is a fast track route into management and provides A-level students (18+) with a real alternative to going to university. On this programme school leavers can continue their education, obtain work experience, receive a salary and become a manager by the age of 21.
For those who want to start first and then develop their skills, we run our fast track entry to management programme called GEM. This is a programme that fast tracks entry level staff to hotel management and features on-the-job training as well as assisted learning through study. More than 400 colleagues have been promoted to a management position through this and our other management development programmes.
We are also proud to play our part in helping bring young people and the long-term unemployed into work. We have a strong commitment to youth employment, working with Job Centre Plus and Local Employment Partnerships to bring the opportunities of hospitality to new people. 
Financials
Audited Report and Financial Statements 2015 - click here to download PDF.
Addendum to Financial Statements 2015 - click here to download PDF.
Audited Report and Financial Statements 2016 - click here to download PDF.
Tax Strategy 2017 - click here to download PDF.
Press Releases
Read the latest Travelodge press releases