If you're looking for a cheap hotel in Newcastle, Travelodge hotels offer everything you need to make the most of this amazing city. Newcastle is a welcoming, vibrant and exciting place to visit and home to a proud Northern spirit. With its beautiful architecture and buzzing nightlife we have plenty of hotels in Newcastle to help you discover, enjoy and experience all it has to offer.
Newcastle is full of character, from its world-class culture and vibrant nightlife to its award winning dining and historical sights, its landscape features everything from the ultra modern to ancient tradition. You could take a short trip to the coast and countryside, or stay close to the action in the very picturesque city centre.
If you're looking at Newcastle hotels, whether you're going for a romantic weekend, taking the family to the north or simply need to be there on business, Travelodge has a great range of hotels in Newcastle conveniently located next to all the major places you need to be. No matter which of our hotels in Newcastle you choose, you'll enjoy a fantastic location and a great night's sleep that won't break the bank.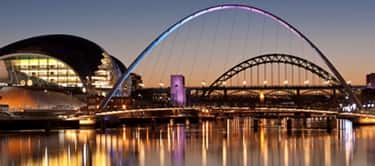 Select a hotel
Cheap Hotels in Newcastle
Travelodge currently have a number of hotels in Newcastle that are ideally placed to experience all that the City has to offer. If you want to be in the heart of it, stay at our Travelodge Central Newcastle hotel, situated just off the magnificent quayside with great views of the famous bridges over the river Tyne. Maybe you're just flying in or out? Then our Newcastle Airport hotel is the perfect place for you to stay.
So if you fancy a city break, quality time with the family or simply need to be here on business, be sure to book a stay at one of our Travelodge hotels in Newcastle. Get a good night's sleep at the end of the day, in a perfect location and, of course, all at an extremely good price.
Things to do in Newcastle
When visiting Newcastle attractions, we have many Newcastle hotels to offer so that you can be right where you need to be. With loads of things to do in Newcastle including culture, leisure, music and history; you're spoilt for choice. Whether you're visiting with the family or fancy a bit of sightseeing, there are many attractions such as the Centre for Life (an award-winning Science Centre), the Discovery Museum and Great North Museum.
Love a good gallery? Housed in a landmark industrial building on the south bank of the River Tyne in Gateshead, The Baltic Centre for Contemporary Art is the biggest gallery of its kind in the world and features a dynamic, diverse and international programme of contemporary visual art. Or, if you consider yourself a lover of the arts, Newcastle has more theatres per person than anywhere else in the UK, a highlight being Newcastle's Theatre Royal.
If you're looking for a cheap hotel in Newcastle and looking to spend your money elsewhere, Newcastle is a definite for the shopaholics. It's well known for its excellent shopping ventures provided by Eldon Square, the UK's largest city centre shopping complex, and the Metrocentre, one of Europe's largest indoor shopping and leisure complexes.