Our unlimited breakfast* - with Lavazza coffee
Our unlimited all you can eat breakfast is only £8.25 and kids under 16 eat completely free.
Our all you can eat breakfast comes with freshly ground whole bean Lavazza coffee. Available at all our hotels with a restaurant and bar. Don't forget to add breakfast to your booking during checkout.
1. Unlimited food - our all you can eat breakfast is bigger and better than ever
Choose as much as you like from our cooked selection, including prime back bacon, Cumberland pork sausages, free range scrambled eggs**, crispy hash browns, Linda McCartney vegetarian sausages, fresh mushrooms, tomatoes and Heinz baked beans alongside anything you like from our lighter breakfast selection including fruit salad, Yeo Valley organic yoghurts, all butter croissants and more.
2. Unlimited drinks - with freshly ground whole bean Lavazza coffee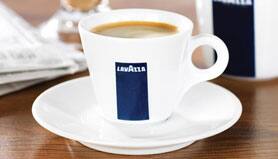 Our breakfast includes a range of unlimited Lavazza coffees. Choose from black or white americano, latte, mocha, cappuccino or espresso – all made from Lavazza's specially selected blends.
Tea lovers can enjoy unlimited Typhoo tea or our new range of Ridgways fruit and herbal infusion teas.
And our chilled breakfast fruit juice is unlimited too.
3. Free for kids*
That's right, the little ones can eat for free when you buy our unlimited £8.25 breakfast.
View and download our breakfast menu here.

*Unlimited breakfast is only available where we have restaurants and bars ​located inside our hotels - our Bar Cafe hotels.
Breakfast to go
If you're staying in one of our Travelodge hotels without a restaurant and bar then grab our handy grab & go breakfast including breakfast favourites from some of the best brands.  
Book a breakfast to go on the extras page or purchase at Reception 24 hours a day.
---
Our unlimited all you can eat breakfast is available in all our hotels with a restaurant and bar, excluding: Spain, Northern Ireland and Republic of Ireland. The following hotels only serve our lighter breakfast: Chelmsford, London Central Kings Cross.
*Up to 2 children under 16 (aged 15 years and under) eat breakfast free per paying adult. Does not include breakfast box. Breakfast served every morning, 7am – 10am weekdays, and 8am – 11am weekends and Bank Holidays. The following hotels serve breakfast from 6am-10am on weekdays and 7am-11am on weekends: Cambridge Orchard Park, Gatwick Airport Central, Heathrow Terminal 5, London Central City Road, London City airport, London Heathrow Central.
**In line with Travelodge's commitment to improving animal welfare we now only serve free range whole eggs. We are also working with our suppliers to ensure we only use free range egg as ingredients in all the products we serve by the end of 2018.