Eat as much as you like breakfast

Great value starts here. Wake up to our all you can eat breakfast offering you a great range of hot and continental options to make sure you're energised and ready for the day.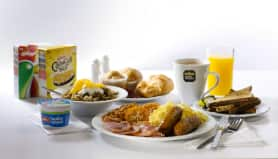 Take your pick from sizzling sausages and bacon, scrambled eggs, and tomato, as well as a variety of cereals, yogurts, fruit, croissants and toast. 
Help yourself to hot tea or coffee, and fresh juice too! Simply add to your online room booking, or decide on the day.
Save £1 off our breakfast. Only £6.65 per adult when booked online, and little ones can eat FREE!*
Served every morning from 7am – 10am weekdays, and 8am – 11am weekends and bank holidays.
Breakfast Box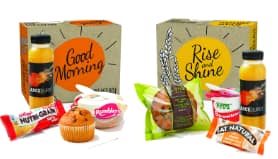 No time for a sit down breakfast?  We've got breakfast all wrapped up in our hotels without a Bar Cafe.
With two tasty breakfast boxes to choose from we've got the perfect start to your day. Boxes include a selection of breakfast favourites from yoghurt or cereal and milk to cereal bars, muffins and breakfast juice, simply choose your favourite and fill up on the go, Only £4.95.
Go ahead and book one online with your room (and get a yummy 10% off!) or pick up at reception 24 hours a day. 
---
 *Up to 2 children under 16 (aged 15 years and under) eat breakfast free per paying adult. Does not include breakfast boxes.
£6.65 offer excludes Spain, Northern Ireland and Republic of Ireland and London Central Waterloo, London Kings Cross Royal Scot, London Central Southwark, London Farringdon, London Central Euston, Manchester Piccadilly, Brighton Seafront, London Docklands, Newcastle Central, London Bethnal Green, Liverpool Central The Strand, Blackpool South Shore, London Heathrow Central, Birmingham Central Bull Ring, Leeds Central Vicar Lane, Leeds Central, London Wembley, London Covent Garden, London Central City Road, London Central Tower Bridge, Manchester Central, Edinburgh Central, York Central Micklegate, London Liverpool Street, Brighton, Liverpool Central Exchange Street, Bristol Central Mitchell Lane, Bristol Central, Glasgow Central.