This London railway terminus is surrounded by an abundance of must-see attractions, boutique shopping experiences, restaurants, markets and more. Whether you choose to stay in the city for a weekend or an entire week, you'll find you will never grow bored as there is something going on every minute of the day. All this action is just minutes from our hotels near Liverpool Street Station making this an ideal option for families, friends and couples.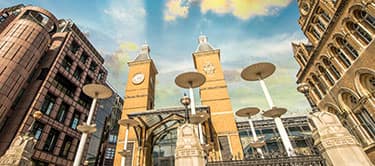 Select a hotel
Book hotels near Liverpool Street Station
Book one of our hotels near London Liverpool Street and position yourself amidst all the action, excitement and glamour this part of the UK has to offer. Liverpool Street Station itself is not only a great transport link, it is home to an array of shops and eateries and is just 0.25 miles away from our London Liverpool Street hotel. Another must-see attraction, especially if you're looking for an alternative to the high street shops, is Old Spitalfields Market. This unique shopping destination is home to an array of on trend boutiques, stalls and events and is located just a 13 minute walk from our London Central Tower Bridge hotel. Also close by is Brick Lane Market, another unconventional shopping hot spot.     
Things to do near Liverpool Street Station
From retail therapy to fine dining to learning all about this area's culture and heritage, staying in a hotel near Liverpool Street will allow you to explore everything this upbeat part of the UK has to offer, including the Barbican, a performing arts centre, home to a number of contemporary acts, or the Bank of England Museum, a must for those interested in our financial heritage. Other nearby attractions include the Museum of London, where you can find out all about the city's interesting past, dating from prehistoric to modern times.