Liverpool has had a recent revival. It won European City of Culture in 2008 and since, there has been an influx of independent cafes, stores and galleries popping up over the city – and it doesn't seem to be stopping. Stay in one of our hotels near Liverpool Lime Street to be at the beating heart of this trendy, modern city. However, step just outside the bustling centre and you find yourself at the coast. How do you choose between country riverside walks and a buzzing urban district? Luckily with Liverpool, you don't have to.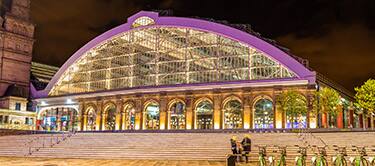 Select a hotel
Book hotels near Liverpool Lime Street
Book a hotel near Liverpool Lime Street and join one of the free walking tours that depart outside the station. When you reach Albert Dock, bid your farewell to the tour. This is a neighbourhood to explore on your own as there's plenty to see, from modern art at the Tate to the Titanic exhibit at the Maritime Museum. Stay till dusk, eat dinner at a nearby restaurant and see the city lights glittering on the water. Our Liverpool Docks Hotel is a half an hour walk from here, so stroll back at your leisure. If you want to explore a bit further out, consider a visit to nearby Formby Beach. Spend a day in nature, whether on the beach or red squirrel spotting in the woodland. Our Liverpool Stonedale Hotel is a 20 minute drive away.
Things to do near Liverpool Lime Street
Spend an afternoon walking the Garston Coastal Reserve Trail along the River Mersey. The route is suitable for everyone, as it's easy and relatively flat. Start at Speke Hall, a beautiful Tudor house and have a peek inside if you have time. It's 3.6 miles from our Liverpool Aigburth Hotel. If you prefer to stay in the city, make sure you visit Liverpool Cathedral. It's the largest cathedral in the UK and has the highest and heaviest peal of bells in the world. Take the two lifts and 108 steps up the tower for a breath-taking panorama. Our Liverpool Central Hotel is a mile's walk away.