Located in the heart of London, Westminster is a popular tourist spot. Home to an abundance of attractions, including many of London's most iconic landmarks, like the famous Houses of Parliament, the Big Ben, Westminster Abbey and the London Eye, it's easy to see why holidaymakers flood here every year all year round. Choosing to stay at one of our hotels in Westminster will guarantee you get to experience all this area has to offer putting you in the centre of all the action.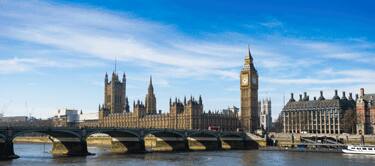 Select a hotel
Book hotels near Westminster
Besides being a shopping hub, it's also home to an array of historical sites, like Westminster Abbey, which is steeped in over 1000 years of English history. Staying in one of our Westminster hotels will grant you easy access to all of the surrounding attractions, including the Churchill War Rooms, a WW2 bunker and museum, positioned just 12 minutes away from our London Covent Garden hotel. Whilst in the area, a trip to St. James Park is not to be missed; located just seven minutes from our London Vauxhall hotel, it is here where you can enjoy 23 acres of idyllic greenery, which makes it the perfect place for a romantic picnic or a day out with the family. To get a bird's eye view of London's many landmarks, cross the river via Westminster bridge and take a trip on the London Eye, conveniently located only a 10 minute walk away from our London Central Waterloo hotel.
Things to do near Westminster
Of course the star of Westminster's show, and one of the most popular tourist attractions in London, is Buckingham Palace, now the administrative headquarters of the Monarch, which dates back to 1837 and is now open for group tours, special exhibitions and family events. When you choose to stay in any one of our hotels near Westminster, you're in the perfect location to explore Green Park, Piccadilly Circus and Trafalgar Square among some of the most famous city's landmarks.