With so much to do in the UK, who needs to travel abroad? It's time for 'staycations' that are fun and affordable; that's why so many families and couples are opting to stay in one of our UK hotels in weekend break hotspots. 
If you are looking for a weekend break in the UK that is fun-filled and action-packed, Travelodge has plenty of hotels to choose from that are conveniently located in great destinations that are perfect for weekend breaks, whether you prefer the coastal delights of Bournemouth or the city landscapes of York and Edinburgh.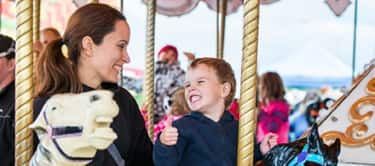 Select a hotel
Book hotels for weekend breaks
For those who long to be beside the seaside, Bournemouth is a classic choice. Take a short trip down to the coastal resort and marvel at the town centre's Victorian architecture. With one of the handsomest piers in England and loads of family friendly activities, there's much to keep you entertained in this seaside paradise and our Bournemouth Seafront hotel is right on the coast.
Alternatively, head north on your journey and immerse yourself in the diverse shopping, vibrant nightlife and unique history of Edinburgh. If you stay at our Edinburgh Central hotel then you'll be in the perfect spot to soak up what this city has to offer. Edinburgh Castle is only 2 miles down the road, along the famous Royal Mile, and Edinburgh Zoo is 5 miles away.
Things to do on weekend breaks
Whether you're seeking hotels in Edinburgh or any other weekend break location, you're sure to find a great range of options in close proximity to travel links and attractions. We promise to put you right on the doorstep of any city, town or coastal resort in the UK and give you plenty to brag about from your holiday. 
Depending on which part of the UK you travel to, there will be plenty of things to do on your city break. In Edinburgh, head to Arthur's Seat or World Heritage site Calton Hill for impressive views of the City or take in one of the many theatre shows, cultural exhibits or attractions such as Edinburgh Castle and Edinburgh Dungeons.
If you've got your heart set on historic York then try York Castle Museum for a quick history lesson or visit York Dungeons which offers a 75-minute journey through over 2,000 years of British history and is located close to our York Central Micklegate hotel. 
No matter where you take a weekend break in the UK, you are sure to find a great range of attractions to enjoy. Look for local museums, theatrical performances, adventure playgrounds, parks and landmarks to enjoy next time you book a trip to locations such as London, Birmingham, Swansea, Newquay and Glasgow.