Bangor is home to a small yet extremely energetic city and university town. With ancient roots dating as far back as the 6th century, a rich heritage and busy calendar of events, it's a great place to visit with friends, family and loved ones for a weekend or longer. It's also renowned for its upbeat shopping scene, which means it really has something for everyone. When you book one of our Hotels in Bangor, you'll certainly be spoilt for choice, which is why a pre-planned itinerary is highly recommended.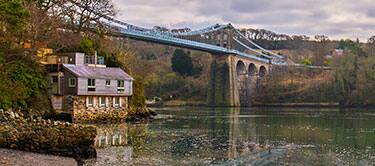 Select a hotel
Cheap hotels in Bangor
Book one of our Bangor hotels and enjoy exploring this ancient area, which is home to the popular Bangor Marina.  Situated just a short hop from our Bangor hotel is a picture-perfect attraction and a great place to spend the entire day. Other nearby tourist attractions include Ward Park, located close to our Caernarfon hotel, this idyllic part of Bangor boasts miles and miles of lush green open space, ten tennis courts, a selection of wildfowl and a duck pond. If you're looking for something a little more cultural, Gwynedd Museum and Art Gallery is not to be missed. Home to an assortment of exhibitions and events, there is something for everyone.
Things to do in Bangor
With so many modern and ancient attractions to explore, you'll never experience a dull moment when you stay in one of our hotels in Bangor. When in the area, a trip to Penrhyn Castle is a must, this National Trust mansion, which sits on the outskirts of town, is surrounded by beautiful grounds and is a popular family attraction. Bangor Cathedral is also nearby, a religious site with roots dating back to the 6th century. It has recently undergone a refurbishment and now hosts a museum and gallery, which is brimming with art and local artefacts.