Boasting British countryside at its best, the Cotswolds is a great place to visit if you're looking to escape a hectic lifestyle. Whether you visit for a few days or an entire week, our Cotswold hotels are perfectly positioned so that you're able to enjoy all this charming region has to offer. With so much to see and do here, it's little surprise the Cotswolds is one of the UK's favourite, most-visited destinations. From the honey-coloured cottages to the picturesque setting, it's easy to lose yourself in the stunning surroundings.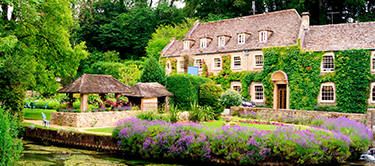 Select a hotel
Book hotels in the Cotswolds
Book one of our hotels in the Cotswolds and explore its beautiful rural setting. Gloucester Cathedral, which sits close to the River Severn, is a must-visit for those with an interest in architecture. Located under 40 minutes from our Burford Cotswold hotel, you'll be able to learn more about its 15th century monastic library, climb the towers and relax in the coffee shop. Other nearby attractions and a great option for children is the Cotswold Wildlife Park and Gardens, situated 28 minutes from our Cirencester hotel and home to over 260 different species of animals. If you're looking for a more cultural visit, take a trip to Tewkesbury Abbey, a former Benedictine monastery that offers guided tours and a tearoom that opens daily.
Things to do in the Cotswolds
From its many areas of natural beauty to its historic and family-friendly attractions, the Cotswolds is a great destination for all the family, and when you choose to stay in one of our hotels in the Cotswolds, you'll have easy access to attractions like Hidcote Manor Garden; a National Trust site located a stones throw away from the town of Chipping that aside from the picturesque greenery and mature shrubs, also hosts an arts and crafts garden, a new all-weather tennis court, croquet, cafes, plant centre and special workshops through all the seasons.