Looking for a cheap hotel in Liverpool? If you're thinking about visiting the heart of Merseyside, why not stay in one if our hotels in Liverpool? Experience the home of glorious maritime history, a world famous musical heritage and the recent 'Capital of Culture' in 2008.
There's a lot to do, so relax in one of our Liverpool hotels and we'll leave the rest up to you. Liverpool is thriving with history, culture and entertainment. Whether you're here for just one of these, or curious for all three, choose one of our cheap Liverpool hotels to ensure you get the most out of your stay.
Currently we have six hotels in Liverpool, all in ideal locations to help you really enjoy this vibrant city. So no matter which of our hotels in Liverpool you choose, we can guarantee you get everything you need and of course a good night's sleep.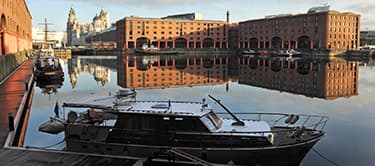 Select a hotel
Book Hotels in Liverpool
Liverpool is a fantastic city break destination whenever you choose to go and we have plenty of hotels in Liverpool city centre. If it's a weekend getaway we can assure you that Travelodge will offer you that great night's sleep and everything you need, for less.
Book a stay at one of our hotels in Liverpool city centre and get a good night's kip so you wake up feeling ready to take on Liverpool in all its glory. All of which will be affordable, welcoming and right where you need to be.
Things to do in Liverpool
Liverpool is a definite calling point for fantastic leisure and a great nightlife. There's a whole host of fabulous shops, buzzing new restaurants and trendy wine bars. Be at the heart of it and stay in the Travelodge Central Liverpool hotel. If you have more of a craving for culture, Liverpool has more museums and galleries than anywhere outside of London. At this hotel, you can be moments away from the Tate Liverpool, Walker Art Gallery and the World Museum Liverpool.
The city is well known for music (the World Capital of Pop in fact) and it would be hard not mention Liverpool without mentioning The Beatles. So why not stay at our Liverpool Docks Travelodge and check out The Beatles Story at Albert Dock.
Maybe you're coming for the football? Liverpool is, of course, home to two of the Premiership's biggest teams; Liverpool F.C at the Anfield Stadium and Everton F.C at Goodison Park. Whichever the team, stay at the Travelodge Liverpool Stonedale Park and be near both so you don't miss out on the action.