No matter which boards you want to see your favourite actors tread, we're guaranteed to have a nearby hotel ready to put you up for the night, and with so many theatres to choose from in our capital city, you're bound to come to town for your dream show soon.
Our London theatre break hotels put you within easy distance of all the best plays, musicals and comedy performances the Capital has to offer, so why not try one of our London hotels? You'll find them just where you need them to be.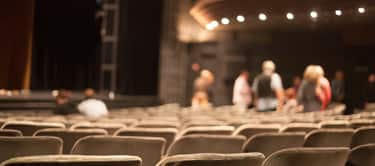 Select a hotel
Book hotels for London theatre breaks
Catch the latest show at the Theatre Royal Stratford East with our London Stratford hotel or take the 4-minute journey to the Victorian theatre. At Stratford East you'll find a variety of performances, from adaptations of folklore favourite Robin Hood to the side-splitting Comic Mondays. 
Of course, it's not just the theatre that you can visit during your stay with us. You'll also have access to a variety of attractions from our London Stratford hotel, including Westfield Stratford: the ideal place for designer clothes and high-street trends. And don't miss a ride on the London Eye, just 6 miles from the hotel, before taking in famous landmarks such as Big Ben and Westminster Abbey for a full family day.
Things to do on London theatre breaks
No matter which theatre you're looking to visit on your trip to London, we're sure to have a great selection of nearby hotels for you to book. Both Covent Garden and Leicester Square are famous for their playhouses, ballet and opera, so you'll find a range of great performances and theatres to choose from in these areas. Covent Garden is just south of Leicester Square and home to a range of theatres, from the Theatre Royal to Drury Lane. The nearby London Coliseum is another famous location for those looking to catch ballet or other performances, and it is also the home of the English National Opera. 
Our London Covent Garden hotel is just 0.25 miles away, so if you love sell-out plays and performances, you'll be in the perfect spot. The famous Apollo Theatre is also conveniently close by for those who want to embrace a slice of British history. Just 8 minutes' walk away, it has been the site of some of the world's biggest theatre hits and continues to 'wow' theatregoers. Of course, plays, performances and exhibitions aren't the only things to do in London's theatre districts. 
Stay central and you'll never be far away from the many other attractions of the Capital. From shopping and dining to history, culture and sight-seeing, there is always plenty to do. Our London Vauxhall hotel, for example, provides the perfect base from which to explore the stunning Aldwych Theatre, located just 14 minutes away and home to some of the UK's best-loved shows. And it also offers convenient access to the Natural History Museum and Science Museum, which are less than 3 miles away. We have lots of hotels in Central London, so you can check-in and enjoy a sensational theatre break that offers much more than just a night out watching the stage.