A truly fantastic mixture of natural beauty, historic buildings and world famous cultural events. For those looking to spend a few days away from home, Scotland weekend breaks have something to offer everyone.
For a relaxed breath of fresh air it's hard to beat the wonderful rugged landscape of the Highland Glens or the peace and quiet of the Lochs with their wonderful backdrop of snow-capped mountains.
A weekend away in one of Scotland's main cities of Edinburgh or Glasgow is a great way to soak up some of the greatest culture that these shores have to offer, taking in everything from beautifully kept architecture to world-renowned works of art.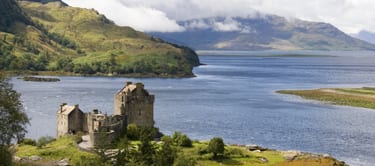 Select a hotel
Book Scotland Weekend Breaks 
Dominating the skyline high above the Scottish capital city, Edinburgh Castle is a great way to spend the day no matter what your age. Explore the grounds and envisage the battle scenes of this historic site that has been home to countless monarchs over the centuries. 
The Edinburgh Central hotel is a great choice for a conveniently located central base for a visit to this city and is easy to reach from Edinburgh Airport, a mere 8 miles away. After a long day enjoying the historic delights of the Castle the countless bars and restaurants that Princes Street is famous for are within easy reach for a night out. 
Considered by many to be the gateway to Scotland, Glasgow is a city full of beautiful landmarks. Breathe in the fresh air with an invigorating walk around Glasgow Green, the city's oldest park, and be inspired by its Winter Gardens and the People's Palace. Our Glasgow Central hotel is only half a mile from the city's Central Train Station and ideally situated for a cultured afternoon at the Kelvingrove Art Gallery and Museum.
Things to do in Scotland
Travel further afield from the main cities and a weekend break in St Andrews, Aberdeen or Inverness all have their own stories to tell and their own unique charms. For those that enjoy teeing off, a weekend at the birthplace of golf, St Andrews, will give you a chance to practice your swing whilst taking in some of the best scenery that these shores have to offer. Our Glenrothes hotel makes an ideal base to explore the area.
A road trip around the wonderful Lochs of Scotland will offer wild views of the deep, still waters before quickly ascending hundreds of feet to the surrounding hillsides for even more breathtaking views. Book your hotel today.