Great value, affordable prices
Great reasons to book with Travelodge: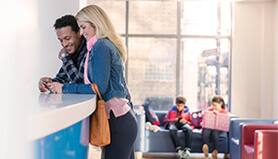 All rooms have been recently upgraded with our comfy new king size bed
Pre-paying at the time of booking means speedy check in and no need to check out
Book up to 9 rooms - if you need 10 rooms or more book through our Group Booking Desk
Early birds can get our saver rates by booking early, up to 11 months in advance**
Our Flexible rate allows you to change/cancel up to 12 noon on the day of arrival
For convenience you can add dinner, breakfast, WiFi, Early Check In or Late Check Out to your booking
Save time by registering your details at 'My Travelodge' , allowing you to manage and search for your recent bookings quickly
*Charges apply.
** Subject to availability.
Our room prices explained:
The prices of rooms at Travelodge are set dynamically depending on the level of demand. The higher the demand for a room, the higher the price is likely to be. Generally our lowest price rooms are sold well in advance and will not be available close to the date of stay. Therefore, by booking as early as possible you are more likely to get the best value stay.
In some cases where demand drops, prices may drop too. In addition we may occasionally run promotions and discounts, which may result in a lower price being made available.
Saver Rates**   

Planning a night away and don't want to spend a fortune, our saver rate is available at most hotels.




Great value, starting from £29
Pay in advance
Non-refundable, non transferable, non amendable

Flexible Rates

Whether you're travelling on business or leisure, our flexible rate allows you to be just that! Available every night, at every hotel.



Pay in advance
Book up to the date of arrival
May be cancelled or amended up to midday on date of arrival without charge
Available at all hotels

All rates are subject to availability at time of booking. T&C's apply. All rates are pre-paid and must be paid for at time of booking using a credit/debit card or PayPal (charges apply).
** Saver rates are non-refundable, non transferable and non amendable.