Whether you're travelling for work or leisure, Travelodge's airport hotels offer convenient and affordable accommodation close to both main terminal buildings and public transport links.
Travelodge's range of cheap airport hotels across the UK all offer excellent rooms and services at prices that won't break the bank. Our airport hotels are open 24 hours a day and offer early check-in and late check-out (additional charge applies), helping you to wind down after your flight or arrive at your terminal feeling refreshed.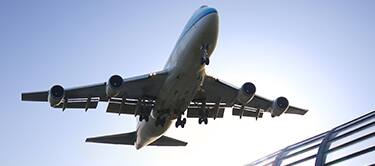 Select a hotel
Airport Hotels with Parking
Travelodge has a great choice of airport hotels with parking, and many offer deals for airport parking of 4 days or more with BCP - see hotel information page for each hotel.
If you're looking for airport hotels and you need to find out more about the great range of shuttle bus and taxi services available to the terminals and surrounding areas, then simply speak to our Travelodge receptionist at your hotel; they'll be happy to give you the information you need to make your trip as easy as possible.
Our Airport Hotels
Whichever UK airport you choose, there's bound to be a welcoming and affordable Travelodge hotel waiting to offer you a great night's sleep. Choose from Heathrow Airport hotel or our hotel near Heathrow terminal 5 to enjoy a peaceful night's sleep in sound-proofed rooms, with cheap shuttle services to all of the airport's terminals. Free parking is available at the nearby Heathrow Heston M4 Westbound Hotel and Heathrow Heston M4 Eastbound Hotel, both of which also offer easy access to London's city centre.
Our hotel near Gatwick airport serves breakfast from 5.30am for those catching an early flight and runs a hotel shuttle bus to both terminals. The Gatwick Airport Central hotel now offers online pre-pay parking at the hotel, whilst our hotel near Stansted airport has 70 spaces free of charge on a first-come, first-served basis. London City Airport hotel offers all the benefits of an airport hotel in the centre of the UK's capital. Short and long-term parking is available at this conveniently located hotel, which lies outside of the London Congestion Zone.
Outside of the London area, there's a fantastic choice of affordable Travelodge airport hotels to choose from. Cardiff Airport Hotel is just 1.8 miles from the terminal, whilst Leeds Bradford Airport hotel offers quick access to the city centre and Pontefract Racecourse. The Travelodge Birmingham Airport Hotel and East Midlands Airport Hotel are great options for anyone looking for budget accommodation in central England, whilst further north our Newcastle Airport Hotel offer quick access via road or rail to both the terminal buildings and city centres. If you're travelling to or from Scotland, you can take your pick from our Edinburgh Airport Hotel, Glasgow Airport Hotel or Aberdeen Airport Hotel. Or, if you're heading on a business or leisure trip to Ireland you can enjoy free parking at our Cork Airport Hotel, Dublin Airport Hotel (North Swords) and Dublin Airport Hotel (South).