Our rooms
At Travelodge your experience is important to us, that's why we've made sure that our rooms are more comfortable than ever before. 
Every room has a comfy king size Dreamer™ bed, complete with a cosy duvet and four plump pillows. Our rooms also have ensuite shower rooms, a spacious desk, a TV with freeview and WiFi. Enjoy complimentary hair and body wash and coffee and tea making facilities.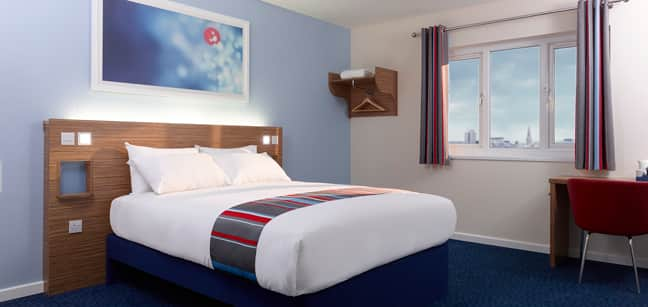 But don't just take our word for it
---
 "Very pleasant experience… the room (was) light and airy and …was spotlessly clean. Would definitely stay here again."
Review by fraddock, a TripAdvisor traveller who stayed at Travelodge Egham, February 2016.
---
Brilliant location and a fab hotel! ....a comfortable room which is spotlessly clean.... It has everything you need. ..This was SO easy and convenient; I was taken aback, and delighted!
Review by SE321, a TripAdvisor traveller who stayed at Travelodge Harrogate West Park, February 2016.
---
What's in your Travelodge room:
Our SuperRooms
We've worked hard to understand what you truly need from a nights stay, which is why we've fine tuned our offer to provide you with our new SuperRoom option alongside our amazing value standard room.
Designed with you in mind, each and every feature has been carefully selected to enhance your stay, from your in-room Lavazza A Modo Mio coffee machine to the Hansgrohe Raindance 3jet power shower. With a choice of firm or soft hypoallergenic pillows, blackout curtains, ambient mood lighting and an additional cosy chair SuperRooms are the perfect choice with added comforts.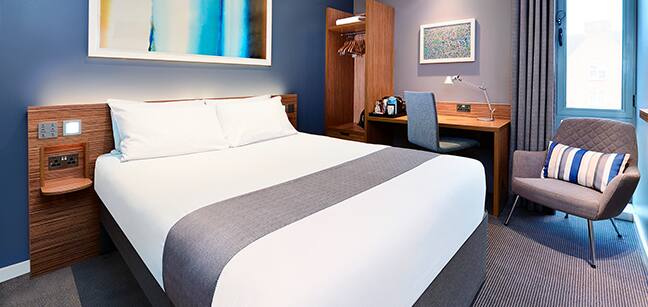 But don't just take our word for it
---
"The new super rooms were fantastic. A large space where I could put all my books and computers for studying. USB power plugs. A fancy coffee machine, power shower, king size bed and air con. I was very comfortable for the entire week."
Review by Neil K, a TripAdvisor traveller who stayed at Travelodge London Waterloo, February 2017.
---
*SuperRooms are available at London Central City Road, London Central Euston, London Central Farringdon, London Central Waterloo, London Heathrow Central, London Vauxhall, Bath Waterside, London Central Tower Bridge, London Central Southwark, London Docklands, London Central Marylebone, Gatwick Airport Central, London Central Bank, London Central Kings Cross, Oxford Abingdon Road, Birmingham Central Bull Ring and London Covent Garden hotels.